Lets take a trip down nostalgia road and look back at some of our favorite NBA stars as high schoolers. The high school kicks of the NBA elite from back-in-the-day are frequently much different that their kicks in the pros. When money and notoriety enter the picture as professionals the personal preferences of these former amateur ballers commonly flies out the window.
A great Canadian poet named Drake (you might've heard of him) once famously said "nothing was the same," and that's true – especially for hoopers.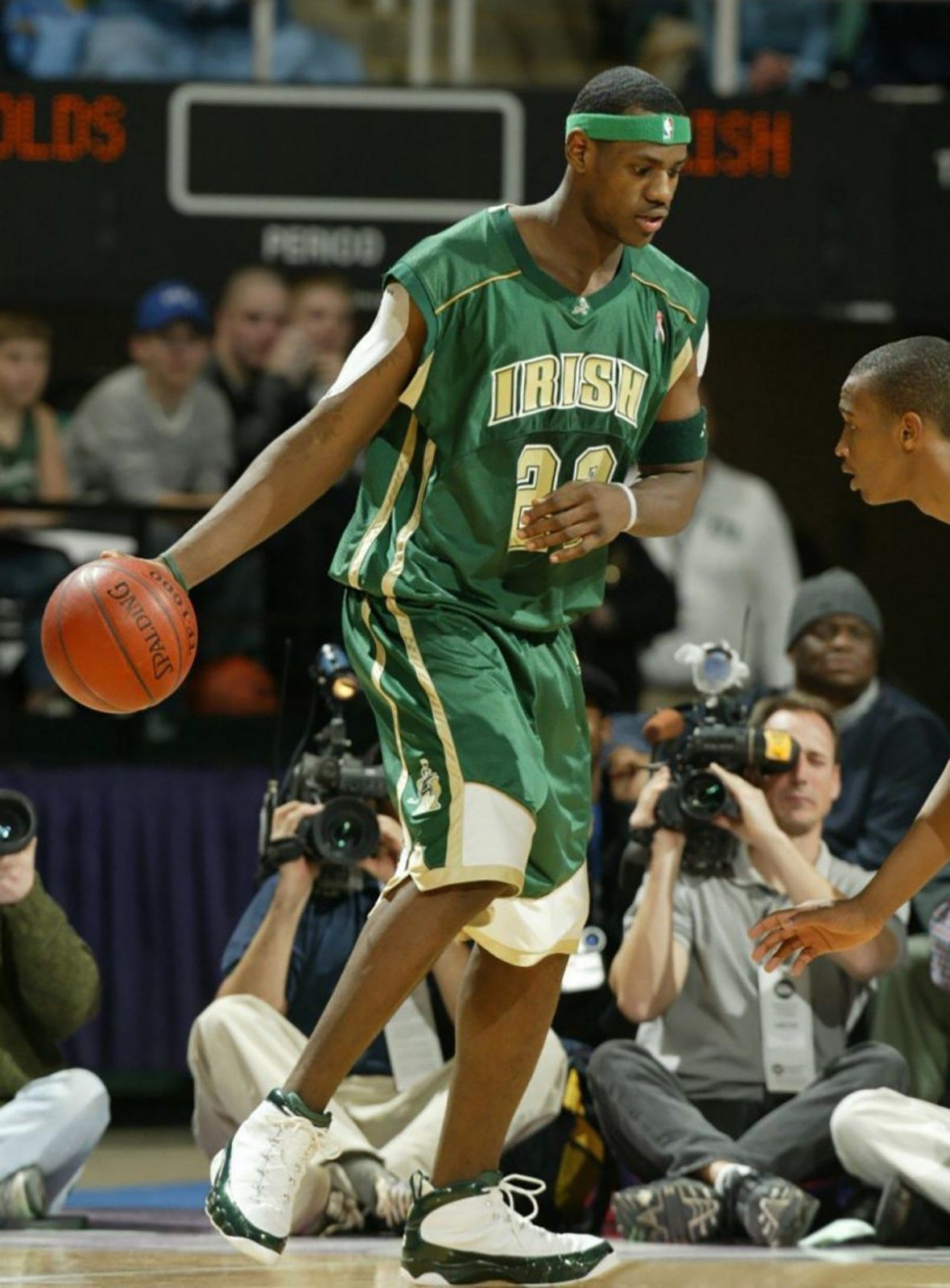 Peep some of our favorite NBA stars as high schoolers below; tell us in the comments section which hooper should've signed with a different brand!
Zion Williamson
High School: Spartanburg Day School; SC, 2018
Brand of Choice: adidas (adidas Harden Vol.1 pictured)
Brand Now: TBD
The "Zion Williamson sweepstakes" will go down as one of the most important signings in basketball for two reasons: basketball and footwear. He's easily the biggest stud to declare for the NBA Draft since LeBron James. Williamson, being one of the most watched prospects of all time, had the spotlight on him throughout his high school career and he thrived. Peep any Zion video from BallisLife and you'll find adidas Harden Vol.1s and other adidas kicks on-foot throughout all of it. Many think Zion will sign with Nike because of his Duke connection; but we think he'll sign with adidas to be the next mega-star of that brand. What do you think?
John Wall
High School: Word Of God Christian Academy; NC, 2008
Brand of Choice: Nike (Nike Zoom LeBron 6 pictured)
Brand Now: adidas, Reebok
We highly recommend you Google 'John Wall college stories'; it'll help contextualize how coveted Wall was as an elite D-1 prospect. The North Carolina guard could be seen racing up and down high school courts in the latest Nike LeBron shoes; but after a year at Kentucky Wall signed a multi-year deal with Reebok (you remember the Zigtech signature shoes, I know you do). Subsequently, Wall stayed away from Nike for many years until last, when his adidas contract expired. Who will John Wall formally sign an endorsement deal with?
Kyle Lowry
High School: Cardinal Dougherty; PA, 2003
Brand of Choice: Air Jordan (Air Jordan 12 Retro 'Flu Game' pictured)
Brand Now: adidas
Kyle Lowry is Philly through and through as he captained the ships of both the Cardinal Dougherty Cardinals and Villanova Wildcats before the NBA. As a Cardinal Kyle played his was onto the national stage and became the 6th ranked point guard prospect in the country. It's kinda funny little Lowry has aged since his high school days; his shoes have changed more than his looks! As a Cardinal he'd rock Jays much like the Flu Games pictured above; but now, Kyle messes exclusively with adidas as one of their All-Star caliber endorsees.
Derrick Rose
High School: Simeon Career Academy; IL, 2007
Brand of Choice: Nike (Nike Shox Flight Lifted pictured)
Brand Now: adidas
Chicago's prodigal son was a sensation before he laced 'em up for the Bulls. Derrick's hometown Bulls straight up sucked in the Post-Jordan Era. Subsequently, Derrick Rose was marked as the Bull's only option in the 2008 NBA Draft. Two years prior to being drafted D. Rose delivered the goods every night for Simeon Academy with Nikes on his dang feet! The future NBA MVP flexed heavily with everything from Kobe to LeBron; Shox to Air Max. The ties he shares with adidas are so strong that its super weird to see D. Rose wearing anything but the Three Stripes. Brownie points if you can name the Nike Shox on H.S. Derrick Rose's feet.
Stephen Curry
High School: Charlotte Christian; NC, 2006
Brand of Choice: adidas, Nike (adidas Pro Model '05 pictured)
Brand Now: Under Armour
Man, it's weird AF seeing Steph wear adidas Pro Models. As the face of Under Armour Basketball, Stephen Curry breaks ankles and sinks 3s; and as a high schooler his skills (though unpolished) could be seen early on. With that said, no one could've imagined the slender guard from Charlotte Catholic would end up being this good. Steph's dad, Dell Curry, enjoyed a long career as an NBA sniper; so Steph learned early in his career how to shoot the rock with efficiency. Lil' Curry (he weighed 160 pounds) lead the Knights to three conference championships; and would go on to wow the basketball world in the NCAA for Davidson College.
LeBron James
High School: St. Vincent's St. Mary's; OH, 2003
Brand of Choice: adidas, Nike, Air Jordan, Reebok (adidas T-Mac 2 pictured)
Brand Now: Nike
LeBron James's time as a high schooler is the most well documented high school basketball career in history. 'The Chosen One' lead SVSM to multiple state championships and, he was so big that ESPN regularly covered his games. In his high school days LeBron rocked the hottest PEs from every brand – everyone wanted a piece of James from the jump. Jordan sent him one-of-ones, adidas sent him custom T-Macs, and Reebok laced LeBron in exclusive Iversons. James could've signed with any brand he wanted, but as we all know he chose Nike (and eventually signed a life-time deal). There is a really interesting documentary on the courting of LeBron by the big shoe brands via ESPN, we recommend you check that out for more on the most famous high schooler of all time.
James Harden
High School: Artesia; CA, 2007
Brand of Choice: Nike, Reebok (Reebok Answer 9 pictured)
Brand Now: adidas
Who the eff is that beardless dude? Oh, it's James Harden pre-swag. The So-Cal native was one of the elite prospects in the state and balled on any and every defender. James rocked Reeboks like the Answer 9s above, but he's on the record saying that he collected a lot of Nikes too. We wouldn't be surprised if he had some adidas locked up in the closet too.
Kevin Durant
High School: Multiple (Oak Hill, Montrose Christian); VA, 2006
Brand of Choice: Air Jordan (Air Jordan 14 Retro 'Forest Green' pictured)
Brand Now: Nike
KD's jump from Jordans to Nikes wasn't that big of a move, we just wanted to have pictures of lil' baby Kevin Durant on our list. He looks damn good in green, huh? It almost feels like his time at Montrose Christian was prepping him to be a Seattle Supersonic… maybe the league should just bring Seattle's team back! lol.