Hey y'all (Andre 3k voice)!
We're ranking the top-10 350 V2 Yeezy Boosts in anticipation of this weekend's newest addition to the family. On Saturday, July 13th, the 'Lundmarks' drop at select retailers, and these jawns are lookin' like one of the hottest pairs of Yeezy Boosts in recent memory! We're just so excited for new 350 V2s that we needed to do a countdown. Without further adieu, lets dive in!
adidas Yeezy 350 V2 'Glow' (2019)
GID or 'Glow In the Dark' and Kanye go together like peas and carrots – Mr. West been using the effect since his Nike Days. First seen in 2016, the GID Yeezy 3350 V2s built their hype via slow grind; images popped up every so often, but official details were always omitted.
Luckily, adidas gave us what we wanted when the GIDs dropped earlier this year. The pictures tell the story… these glow, duh. That green isn't for everybody but that's okay; if you're feelin' 'em then you're feel' 'em – roll with it.
adidas Yeezy 350 V2 'Sesame' (2018)
No lie, my heart told me to rank these higher but the Sesame joints were kinda forgettable. That's not the shoe's fault though, sooo many Yeezys (350, 700, etc) have dropped in earthy, grey/beige, hues that they begin to blend together. That subtle sesame color just worked though,
adidas Yeezy 350 V2 'Black Reflective' (2019)
Yeah yeah yeah, they're not the 'Pirate Blacks' but the V2s came correct with their own take on "all black everything." Yeezy does black kicks extremely well with no pair ever looking basic or plain – there's always an element of depth in black 350s as various shades of black combine to create the final look. Like most recent Yeezy 350 V2 releases these joints released in two variations. One with 3m flash and one without. We're rollin' with the 3m pair because that shine combined with the dark hues is a winning 1-2 punch.
adidas Yeezy 350 V2 'Bred' (2017)
Fun fact, Kanye's favorite Air Jordans are the 'Black Infrared' 6s so the inspiration behind these will never be publicized, but now you know.
What's the most perfect color pairing for sneakers?
Infrared and black…
Say no more fam.
adidas Yeezy 350 V2 'Clay' (2019)
"Yoo Modern Notoriety, you buggin' 'Clays' shouldn't be ranked this high!!"
Well readers, lets take a second and appreciate what the 'Clay' V2s offer and then you'll see why they've made it onto our list: it's the color. The complexity of the clay color used is phenomenal. The shade looks completely different on-foot than on-line photos. The outsole, midsole, upper and heel tab are all technically clay but none of them look the same. It's truly an amazing shade of off tan that I've never seen used before. Feel free to @ us in the comments below if you feel differently.
adidas Yeezy 350 V2 'Zebra' (2018)
Resellers might've hated the 'Zebra's' return last year but it was great for people that actually wanted a pair. The Yeezy 350 V2 'Zebras' are THE V2 you see most often. Dads that think they got swag wear them, teenagers wear them, everyone wears them… and that's what makes them dope. Kanye promised that anyone who wanted a pair of his shoes would be able to get one, and the 'Zebras' fulfilled that promise.
adidas Yeezy 350 V2 'Static' (2018)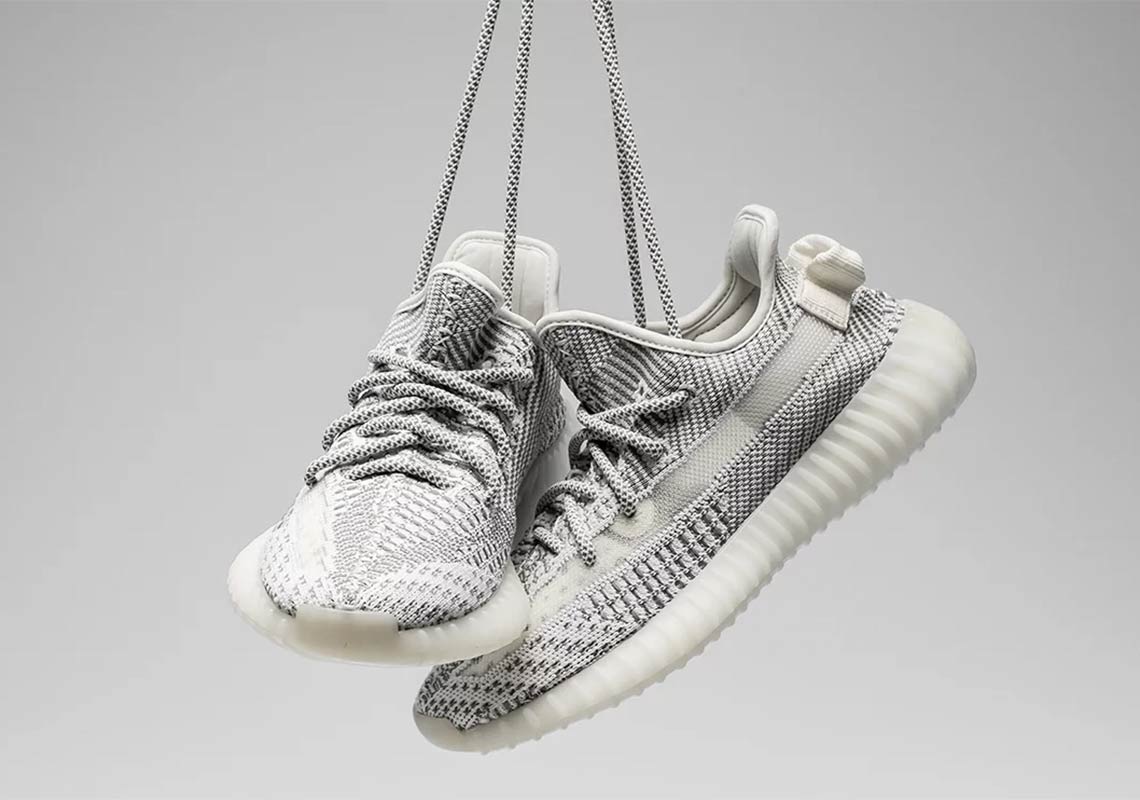 Mess with these and you'll catch static. For a minute people sleeping on the Yeezy line thought the 350 V2 wave had subsided; but then the 'Static' rendition dropped and everyone was interested again. The colorway is just wild enough to spark conversation without being too distracting. The printed laces pairs with the busy upper pattern and exposed "guts" all played off each other flawlessly while the milky, translucent, tooling brought the look together.
Similarly to the 'Black' 350 V2s the 'Statics' released with reflective and non-reflective options (reflective being much more limited). The 'Statics' rank so highly on our list because they prove that the Yeezy line has much more to give; and they delivered a fresh new approach to the 350 V2.
adidas Yeezy 350 V2 'Copper' (2016)
Copper is one of those colors rarely seen on sneakers, but when it's used it's tough. Black Friday saw a trio of V2s drop and these (along with another entry on our list) are easily some of the most sought after 350 V2s on the secondary market. They're simple, nicely utilized the V2's stripe feature and have just enough color to keep things interesting. These joints are so clean and timeless that they'll easily go down as one of the best Yeezys ever released, period.
adidas Yeezy 350 V2 'Beluga' (2016)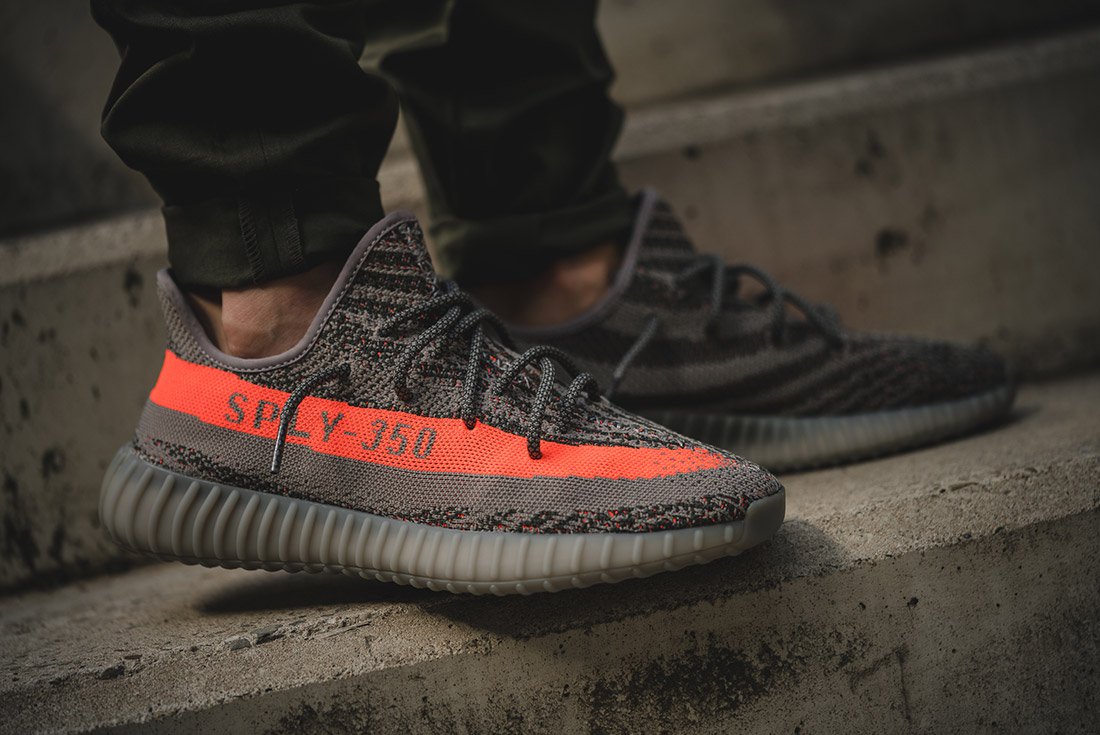 A Beluga whale sized splash was made when adidas dropped these bangers. Serving as the V2's flagship colorway was a tall task and the 'Belugas' executed on every level. The orange stripe contrasted the grays beautifully, and the patterns were cutting edge – simply put, the 'Belugas' came out of nowhere and changed the game. The overall shape of the V2 carried over from the V1, but adidas cranked up the pattern flyness to new highs with these right here. Many would argue these are the best Yeezy Boost V2s ever, and we wouldn't put up much of an argument… these are that good.
adidas Yeezy 350 V2 (2016)
Bred is best, facts. Everything the 'Coppers' did well the 'Breds' did better. That shade of red is somewhere between fire red and infrared (funny how we use Nike colors to describe other brands' colors) and we couldn't get enough of 'em. Lets put it this way, these pass the eye test, aka the second you see them you feel them. Trust your guy, you know these are the greatest V2s of all time. Tell us in the comments section below if you'd pick a different adidas Yeezy Boost 350 V2s to top our list!